World Of Chaos

10-05-2019

Heavy / power metal, Thrashmetal
Tracklist
01. My Redemption
02. Never Surrender
03. Need For Speed
04. Fire
05. Fight For Metal
06. Follow Your Dreams
07. Power And Glory
08. Hard Life
09. The Greatest Loss
10. Revenge
11. Y.P.M.O.
Eternal Breath is een Belgische metalband die in 1996 werd opgestart door zanger Andy Polfiet en gitarist Marino Decaluwé. De rest van de line-up wisselde nogal, waardoor een debuutalbum wel heel lang op zich liet wachten. Pas in 2016 verscheen The Joker, dat nog aan onze aandacht wist te ontsnappen. Positieve reacties maakten de band duidelijk dat ze op het goede spoor zat, dus een tweede album liet minder lang op zich wachten: eerder dit jaar verscheen World Of Chaos.
De muziek van Eternal Breath laat in gelijke delen invloeden horen van zowel klassieke heavy, als thrash metal. De stijl ligt daar zo'n beetje tussen in, en is van de oude school. Dat oubollige karakter wordt nog eens versterkt door de behoorlijk simpele teksten, die bol staan van de clichés. Songtitels als Never Surrender, Need For Speed, Fight For Metal en Power And Glory spreken wat dat betreft voor zich denk ik zo.
De nadruk ligt op de gitaarriffs, die lekker in het gehoor liggen, en een zekere vertrouwdheid uitstralen. De ritmesectie laat ook goed van zich horen, en legt een onmisbare strakke en swingende basis. Als toetje worden de nummers voorzien van de krachtige cleane zangstem van Andy Polfliet, die desondanks een heerlijk rauw randje laat horen. Vooral in de refreintjes dreigt de boel af en toe en beetje cheesy te worden, maar daar staan dan weer genoeg energieke momenten tegenover.
Ballade Follow Your Dreams en ook The Greatest Loss (ik vind die samenzang niet zo geslaagd) zijn wat mij betreft de enige twee minpuntjes van het album. Voor de rest is het genieten geblazen van sterk en gedreven uitgevoerde authentieke metal. De heren concentreren zich wat mij betreft beter op waar ze wel goed in zijn: energiek rocken! Absoluut voer voor de old school liefhebbers onder ons.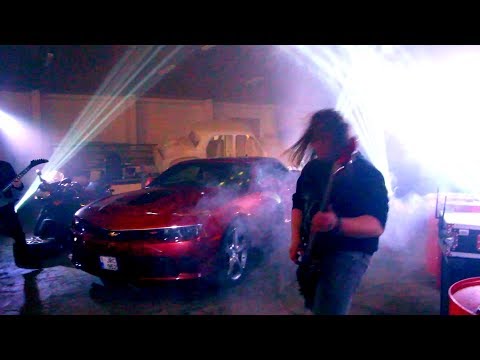 Aaron Soen - Bass, Vocals
Robin Vancayseele - Guitars, Vocals
Marino Decaluwé - Guitars
Andy Polfliet - Vocals
Kenny Geerts - Drums