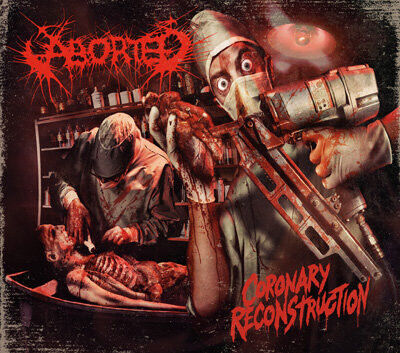 "Coronary Reconstruction" zoals de nieuwe EP van Aborted zal gaan heten, zal tegen het einde van Januari in Europa verkrijgbaar zijn. Dat de band nogal eens wat bandleden wisselingen heeft, is wederom te merken aan een aantal flinke line-up wijzigingen. Terug van weggeweest is Dirk Verbeuren die al eerder aan Aborted heeft meegewerkt en intussen wat ervaringen met Soilwork heeft gedeeld. Dat het afgelopen jaren vol stond van wisselingen en keuzes is in het commentaar van Sven De Caluwé te lezen:
"It has been quite a ride so far with ABORTED. The band always had to deal with numerous lineup changes and this time it is no different. Previous drummer Dan left to play for TRIGGER THE BLOODSHED and bass player Svenchi left to focus on his recording studio he just opened. After a tough year with major differences in how the band should evolve musically, and the touring plans of the band, I decided working with Peter and BST would simply not work and move along with new people who are thinking in the same direction and are motivated to lift this band up. I still do this band for fun and it is intended to be intense, and a hobby to me, and I do not have expectations to make a living solely from playing death metal as I am realistic that touring 10 months a year with a band like ABORTED is simply a financial hazard. Everyone in the new lineup is aware of this and have been personal friends of mine for nearly a decade. The material we have excreted is simply shredding and brain-melting and takes the band back to the 'Goremageddon' and 'Archaic' era with some new twists, which is exactly what I wanted to do. I could not be more thrilled to welcome Dirk again in the band, who had a big part in the signature sound of 'Goremageddon'. It has been a blast to work back together on what I think is without a doubt the most exciting ABORTED release since 'The Archaic Abattoir'. Everyone in the band poured heart and soul into the material and you will undoubtedly hear it, THE GORE IS BACK, MOTHERFUCKERS!!!!"
Het eerst volgende optreden waar we Aborted in de nieuwe line-up het podium zullen zien afbreken, is op de vrijdagavond van het Neurotic Deathfest, wat in het weekend van 30-4 plaats zal vinden. "Coronary Reconstruction" zal via Century Media Records worden uitgebracht.
Tracklist:
01. Coronary Reconstruction
02. From A Tepid Whiff
03. Grime
04. A Cadaverous Dissertation
05. Left Hand Path (ENTOMBED cover)
De nieuwe line-up:
Sven De Caluwe - vocals
Ken Sorceron - guitar
Eran Segal - guitar
Cole Martinez - bass
Dirk Verbeuren - drums