Damnation

18-10-2019

Hardrock, Heavy / power metal
Tracklist
01. Hellsiah
02. Out For Blood
03. Kick It Down
04. March Davai
05. Murder In The Rye
06. Under The Black Veil
07. Damnation
08. Kill Or Be Killed
09. The Nihilist
10. Love, Eternal
Aerodyne is een Zweedse old school of retro hard rock / heavy metalband. Gestart als viertal in 2016 kwam de band al snel met debuutalbum Breaking Free (2017) om zichzelf op de kaart te zetten. Met positieve recensies in de tas, en wat subtiele bezettingswisselingen verder is de band klaar voor album nummer twee: Damnation.
Het doel van de band is - zoals zo velen - om de jaren '80 op muzikaal vlak te doen herleven. De min of meer populaire muziekstijlen uit die tijd - hard rock, heavy en speed metal, een vleugje glam / hair metal - worden door Aerodyne vakkundig versmolten tot een eigen smaakvol geluid. Verwend met een hedendaagse productie komt deze muziek aangenaam uit de speakertjes geknald.
Intro Hellsiah is nog wat obligaat / weinigzeggend. Maar met de opzwepende klanken van Out For Blood (hallo Judas Priest) en het furieuze Kick It Down zit je al gelijk in die goeie old school vibe. Het zal de liefhebber van klassieke heavy metal niet meevallen om hier stil bij te blijven zitten. Pijn in de nek gegarandeerd!
Natuurlijk gaat alleen maar snelheid toch vroeg of laat vervelen, dus met March Davai wordt het gaspedaal even gelaten voor wat het is, en gaan we verder in het middentempo. Slechts van korte duur zo blijkt, want Murder In The Rye en Under The Black Veil zetten weer in op het betere headbangwerk. Daarna is titelnummer Damnation het meest atmosferische nummer van de plaat; al wordt in het intro helaas AC/DC's Hells Bells wel behoorlijk geplagieerd. De song zelf mag er echter wel weer wezen.
Vervolgens gaat het gas weer vol open met Kill Or Be Killed, en krijgen we naar het einde toe twee iets meer uitgesponnen tracks voorgeschoteld, die (gelukkig) ook wat meer variatie laten horen. De Oosterse lijntjes in The Nihilist zijn natuurlijk best cliché, met Love, Eternal gaat Aerodyne er uit met de spreekwoordelijke knal. Het gebrek aan originaliteit blijft, evengoed is het smullen geblazen bij deze old school heavy metal; ik vind Damnation echt geen slechte plaat, en mag hier graag naar luisteren!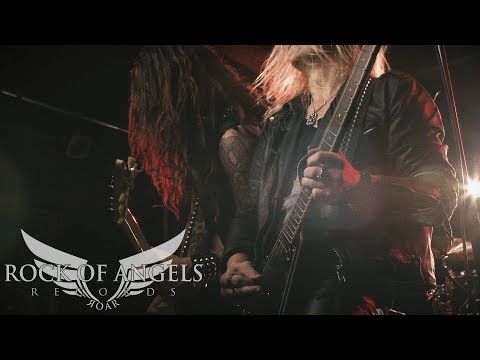 Marcus Heinonen - Vocals
Johan Bergman - Guitar, Vocals
Daniel Almqvist - Guitar, Vocals
Thomas Berggren - Bass, Vocals
Christoffer Almqvist - Drums, Vocals