Populace Destructor

30-10-2015
Tracklist
01. Born in Uniform
02. Fleshwork
03. Social Unrest
04. Aestus Mortis
05. Fatalist
06. Populace Destructor
07. Industrial Conflicts
08. Unparalleled Cruelty
09. Isolated Despair
10. Frozen Atrocities
Aggravator is ontstaan in 2008 in San Antonio, Texas door vocalist/ritmegitarist Derek Jones en drummer Mike Cortes. Na een tijdje in wat lokale kroegjes te hebben gespeeld werden ze rap vergezeld door leadgitarist Jesse Lopez en bassist Tristan Hernandez waarmee het kwartet bezegeld wordt. In eigen beheer wordt in 2010 een eerste demo uitgebracht, debuutplaat Age Of Combat komt uit in 2012. Met flink wat gigs op de naam is het dan anno 2015 alweer tijd voor een opvolger van deze eerste opleving getiteld Populace Destructor.
Zoals de bandnaam al doet vermoeden hebben we hier te maken met een portie agressieve thrash metal. In eerste instantie valt de korte speelduur van de tracks op, wat doet vermoeden dat het om een bondige aanpak gaat. Dit is dan ook zeker geen onterechte gedachte. Met een tiental nekbrekers in het verschiet laat de band zowel mid- als up-tempo van zich horen. Neen, Aggravator heeft het wiel niet herontdekt maar speelt de muziek na van hun grote voorbeelden. Niets meer, maar ook zeker niets minder. Nadeel is vooral dat de songs dusdanig op elkaar gaan lijken dat je amper vergeet waar je bent gebleven. Meer van hetzelfde, maar hetzelfde is in dit geval prima te verteren.
Met wat meer hoogvliegers qua individuele tracks was dit een interessanter album geweest. Nu blijft het allemaal wat teveel hangen in de middenmoot. Op de vraag of Aggravator dan ook het verschil kan betekenen in het reeds dichtgetimmerde genre, valt zeer te betwijfelen. Wel leveren ze een vermakelijk werkje af dat zeker zijn plekje zal weten te vinden naar de muziek-dorstigen.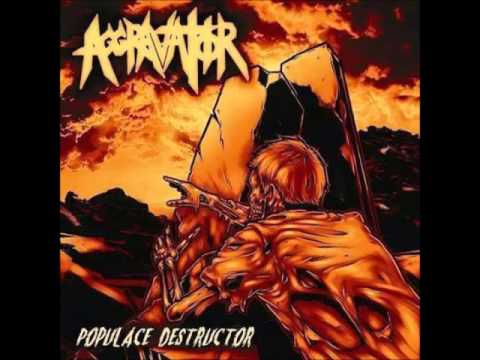 Derek Jones - Vocals, Guitar
Mike Cortes - Drums
Tristan Hernandez - Bass
Jesse Lopez - Guitar