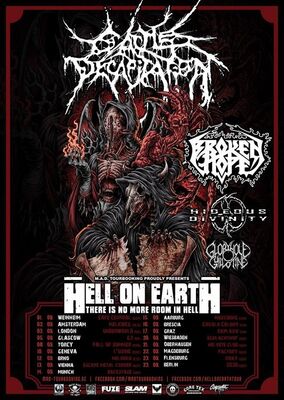 Niemand is veilig wanneer de schaduw van de Hell On Earth Tour op de eerste zaterdag van september Amsterdam omwikkelt. Het menu van de avond bevindt zich aan de extreme kant van het muziekspectrum: deathmetal en progressieve grind met een bevredigende dosis gore 'n horror.
Met gepaste trots biedt de Oude Zaal haar podium aan de snijdende deathgrind van Cattle Decapitation. Dit uit San Diego afkomstige viertal heeft het na twintig jaar klaargespeeld met de laatste twee platen "Monolith of Inhumanity" en "The Anthropocene Extinction" een vernieuwende benadering van extreme vocals te omarmen en de ijzingwekkende keelklanken van zanger Travis Ryan maakt het een dystopisch geheel. Een goed luisterend oor zal het niet ontgaan dat Cattle Decapitation voorvechter is van dierenrechten, met een boodschap doordrenkt met misantropie.
"Chicago's gore institution" Broken Hope maakt deathmetal van de oude school en is na een radiostilte van pak 'm beet vijf jaar in juni 2017 teruggekomen met de zevende plaat "Mutilated and Assimilated" (Century Media Records). De eerste helft van de avond geeft stem aan het Italiaanse Hideous Divinity met als opener Gloryhole Guillotine, wederom uit Chicago.
Broken Hope [US], Cattle Decapitation [US], Gloryhole Guillotine [FR], Hideous Divinity [IT], Melkweg [NL]