Live - Back To The Roots - Accepted

04-08-2017

Hardrock, Heavy / power metal
Tracklist
CD 1
01. Intro
02. Starlight
03. Living For Tonite
04. Flash Rockin Man
05. London Leatherboys
06. Midnight Mover
07. Breaker
08. Head Over Heels
09. Neon Nights
10. Princess Of The Dawn
11. Winter Dreams
12. Restless And Wild
13. Son Of A Bitch
14. Up To The Limit
CD 2
15. Wrong Is Right
16. Midnight Highway
17. Screaming For A Love-Bite
18. Monsterman
19. T.V War
20. Losers And Winners
21. Metal Heart
22. Im A Rebel
23. Fast As A Shark
24. Balls To The Wall
25. Burning
26. Outro I Give As Good As I Get
27. My Way Bonus
Vorig jaar verscheen van U.D.O. onder de bandnaam Dirkschneider een live-dubbelalbum met als titel Live - Back To The Roots. Dit was een live-registratie van de Back To The Roots tour (duh), waarmee de kleine zanger met de schuurpapieren stem besloot een statement te maken ten aanzien van de muziek van zijn ex-band, en afscheid te nemen van zijn Accept-verleden.
Blijkbaar is dat goed bevallen, heeft de release goed verkocht, en / of moet het project verder (financieel) uitgemolken worden. Want nog geen jaar later verschijnt er een tweede Back To The Roots-album, deze keer met als subtitel Accepted. Dit is - uiteraard - een live-registratie van dezelfde tour - en ook uiteraard - van een ander optreden. Deze keer is het optreden in Brno (Tsjechie) van december 2016 uitverkoren om vastgelegd en vereeuwigd te worden; en wel op dubbel-CD en blu-ray, beiden met exact dezelfde tracklist. Ok, er is dan toch een verschil met de voorganger: nu zit er beeld bij (alleen natuurlijk weer niet bij mijn digitale promo).
De tracklist vertoont natuurlijk grote overeenkomsten met de release van vorig jaar, het is echt niet zo dat we nu opeens heel verrassende nummers in de setlist tegen komen. Het hoe en waarom van deze release is me dan ook niet duidelijk, behalve dan gemakkelijk geld vangen van de fan die alles wil hebben van een favoriete artiest. Zelfs de hoes is exact hetzelfde als die van de eerste CD's (alleen andere kleur) dus daar is ook geen tijd en moeite ingestoken.
Uiteindelijk is er met deze release puur in kwalitatief opzicht weinig mis; alles dat ik over de vorige Back To The Roots schreef geldt hier ook. Daar wil ik het dan maar bij laten.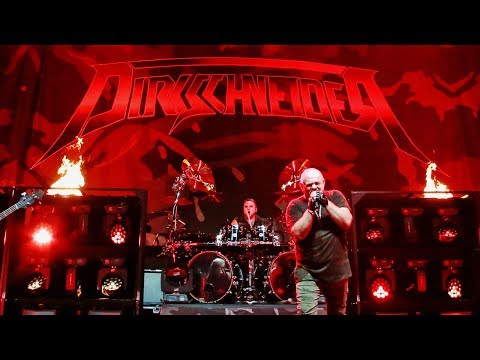 Udo Dirkschneider - Vocals
Fitty Wienhold - Bass
Andrey Smirnov - Guitars
Kasperi Heikkinen - Guitars
Sven Dirkschneider - Drums