Exterminator

20-10-2017

Heavy / power metal, Speedmetal
Tracklist
01. No Escape
02. Summon The Dead
03. Never Win
04. Exterminator
05. On The Run
06. Ashes
07. Going Down
08. Lady Bad Luck
09. Revenge
10. All That Remains
Daar heb je er weer zo eentje, een band die musiceert alsof het nog maar net 1980 is geweest. Waar het hart vol van is... brengt het Zweedse vijftal van Night Viper (met in de gelederen Tom Sutton, die we kennen van The Order Of Israfel en Church Of Misery) klassieke, speedy heavy metal als vanuit een tijdmachine. Nou ja, bijna dan, want productioneel weet de band gelukkig wel hoe het tegenwoordig hoort. Extermintaor is hun tweede album, opvolger van het zelfgetitelde debuutalbum van december 2015, precies twee jaar geleden dus.
Wanneer je houdt van lekker in het gehoor liggende heavy metal met bij vlagen speed/thrash-allures, en zonder overbodige poespas, dan zit je bij Night Viper goed. Neem de dertien-in-een-dozijn-riffs, de schreeuwerige zang van Sofie-Lee, en de Metallica-worship (Summon The Dead, Never Win) voor lief, en je zult je met Exterminator zeker niet vervelen.
Wanneer wat gas wordt terug genomen, zoals bijvoorbeeld met On The Run en de afwisselende afsluiter All That Remains, dan betoont de band eer aan de NWOBHM. Hier hoeft de zangeres ook meteen wat minder te schreeuwen, waardoor de vocalen wat beter om aan te horen zijn. Ik vind die zang dus overduidelijk niet het sterkste punt van Night Viper.
Voor de rest is het simpelweg genieten van de lekker in het gehoor liggende oubollige metal. Niks origineels, niks spannends, wel degelijk en enthousiast in de uitvoering. Maar ja, zoals deze band zijn er de laatste jaren zo veel....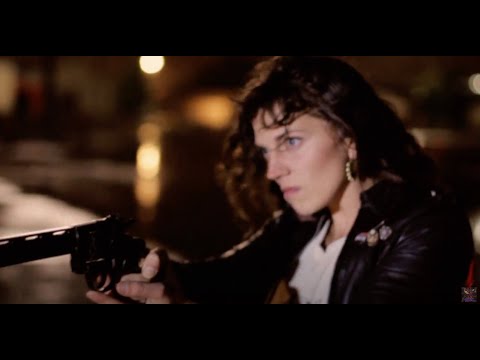 Ruben Åhlander Persson - Bass
Jonna Karlsson - Drums
Tom Sutton - Guitars
Sofie-Lee Johansson - Vocals
Johan Frick - Guitars