Gepost in Reviews door
Edwynn
op 25-09-2022
Diabolical

08-04-2022

Thrashmetal
Tracklist
01. Under The Spell
02. Diabolical
03. No Faith In Humanity
04. Repent Your Sins
05. Hope Dies Last
06. The Last Of A Dying Breed
07. State Of Apathy
08. Tormented Soul
09. Servant Of The Beast
10. The Lonely Wolf
11. Ghost From The Past
12. Whorefication
13. City Baby Attacked By Rats [G.B.H. cover]
Diabolical is aflevering nummer zoveel uit de langjarige kronieken van het Duitse Destruction. Sinds de wederopstanding in 2000 is er weinig veranderd in de stijl van de band. Hoewel Diabolical een vurig potje thrash laat horen, duurt het niet lang voordat ik weer terug grijp op Infernal Overkill (1985) of Sentence Of Death (1984).
Destruction met een dikke productie klinkt niet leuk genoeg naar mijn smaak. Het positieve is dat er op het nieuwe album getracht is om de boel niet zo generiek digitaal te laten klinken. Helaas horen we daar tegenover alleen maar zaken die we in het verleden al zo vaak hebben gehoord.
Dit blijft verder leuk festivalvoer natuurlijk, waar verder niet zo heel veel mis mee is. Behalve dat het net zo verrassend is als een bierdouche bij Mart Hoogkamer.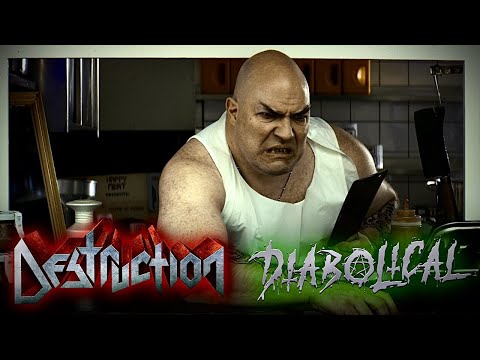 Schmier - Bass, Vocals
Martin Furia - Guitars
Randy Black - Drums
Damir Eskić - Guitars