Reign Of Terror

27-02-2017

Deathmetal
Tracklist
01. Born A King
02. Kingmaker
03. Return To Violence
04. Outlaw
05. Built On Tradition
06. The True Reign
07. Warpath
08. Battle Scars
09. The Executioner
10. Died A Liar
De Duitse 'brutal slamming' midtempo en groovende death metalband Acranius heeft op 27 februari van dit jaar hun derde langspeler uitgebracht. En aan mij om sinds de oprichting in 2009 de eerste review te schrijven voor WingsOfDeath.
Deze door Rising Nemesis uitgebrachte derde schijf heet Reign Of Terror, en is misschien wel het harde resultaat van twee jaar lang touren, waarbij Engeland de boventoon voerde. Er is mij niet echt veel bekend over de band, maar dat ze een heel groot merchandise aanbod hebben staat buiten kijf.
Hoe lomp en smerig wil je Reign of Terror beginnen? Juist , door met een perfecte Born A King te beginnen. Dit is een duidelijke aanloop naar wat je te wachten staat van Acranius. Als de band live waarmaakt bij wat je op Reign of Terror voorgeschoteld krijgt, dan krijg je een superstrakke set voor je kiezen. Niet dat het echt door snelheid losbarst, maar wel door een ongelooflijk lekkere sound en super vette groove partijen.
Drummer Rob is daarentegen lekker tegenstrijdig, waar de ritme sectie alles op alles zet om je te laten voelen wat smerige brutal slamming death metal inhoudt, doet Rob er alles aan om dat de kop in te drukken. Snel drumwerk gegarandeerd, wat een geweldige combinatie is!
Reign of Terror is een uitermate lekker schijfje om deze zomer een vrolijke ondertoon te geven.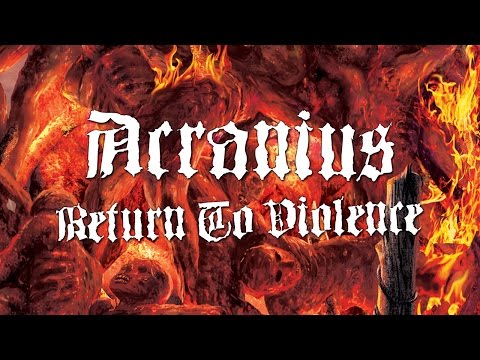 Lars Torlopp - Bass
Björn Frommberger - Guitars
Rob Hermann Arndt - Drums
Kevin Petersen - Vocals