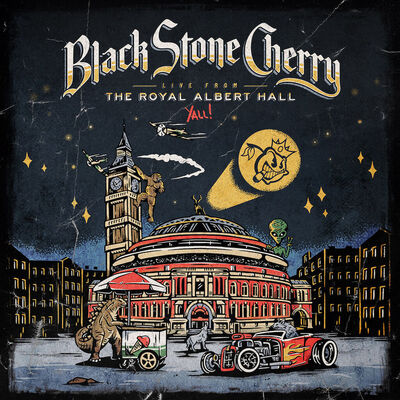 Live From The Royal Albert Hall... Y'All!

24-06-2022

(Blues)Rock, Hardrock
Tracklist
01. Me and Mary Jane
02. Burnin'
03. Again
04. Yeah Man
05. In My Blood/Island Jam
06. Ringin' In My Head
07. Like I Roll
08. Cheaper To Drink Alone
09. Hell and High Water
10. Soulcreek
11. Devil's Queen
12. Drum Solo
13. Things My Father Said
14. In Love With The Pain
15. Blind Man
16. Blame It On The Boom Boom
17. White Trash Millionaire
18. Lonely Train
19. Peace Is Free
Op woensdag 29 september 2021 - het jaar van het twintig-jarige jubileum van de band - realiseerde Black Stone Cherry z'n kinderdroom: optreden in de legendarische Royal Albert Hall in Londen. Zittend op het podium van het iconische Victoriaanse gebouw, pauzeert zanger-gitarist Chris Robertson, kijkt om zich heen en zegt: "When you're a kid, and you see your heroes playing places, and then all of a sudden you find yourself sitting on the stage, it's pretty emotional. But we're gonna royally rock it this evening. You better believe that".
En ze stellen niet teleur wanneer ze openen met het explosieve Me And Mary Jane. Van clubs tot arena's en headline-optredens op festivals, niemand geeft het soort show dat de Cherries geven. Hit na hit, de menigte brult terug. Black Stone Cherry was een van de eerste Amerikaanse bands die durfde te touren door het Verenigd Koninkrijk (en het vasteland van Europa) nadat de Covid-restricties werden versoepeld, en ze gaven elke fan avond aan avond een gevoel van euforie mee. Nieuw bandlid Steve Jewell Jr vervangt langjarig bassist Jon Lawhon, en kriskrast vol enthousiasme over het podium samen met gitarist Ben Wells en band-opperhoofd Robertson.
Dit is een band die absoluut geniet van het samen spelen, en dat komt bij elk nummer over. Het is al weer even geleden, maar in 2016 schreef ik naar aanleiding van het album Kentucky het volgende: "Back Stone Cherry hoort net als op het podium te stampen en ronken, dit is muziek die gevaarlijk en ongepolijst hoort te klinken. Dat doet het helaas op het album niet" .... "de kracht van de live-act komt op deze CD helaas niet goed tot uiting". Met deze Live From The Royal Albert Hall word ik dus op mijn wenken bediend!
De band knalt door hun indrukwekkende catalogus aan tracks en speelt uiteraard niet alleen nummers van hun meest recente studioalbum The Human Condition, zoals In Love With The Pain, Again en Ringin' In My Head, tot aan gekende 'hits' als Blind Man, Hell And High Water, Blame It On The Boom Boom en White Trash Millionaire. Een uitgelezen dwarsdoorsnede van hun materiaal, gebracht door een band in vorm, voorzien van een uitstekend geluid, en vanaf een historische locatie. Wat wil je als rechtgeaard rockfan nou nog meer?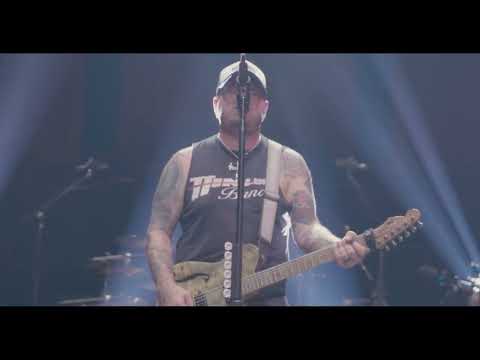 Chris Robertson - vocals, guitars
Ben Wells - guitars, vocals
John Fred Young - drums, percussion, piano, vocals
Steve Jewell Jr - bass, vocals