Annihilate The Evil

01-09-2017

Heavy / power metal
Tracklist
01. The Boys From Down Under
02. Revenge In Flames
03. Fake Hero
04. Dog Soldiers
05. Oxi Day
06. Thyra's Wall
07. Defector (Betrayer of Nations)
08. The Iron Brigade
09. White Lily (Okhotnik)
10. Iron, Steel, Concrete, Granite
11. Herkus Mantas
12. Gimme Shelter (Rolling Stones cover)(bonus)
13. The Boys From Down Under (video)(bonus)
Het Belgische Fireforce is in 2008 voortgekomen uit de restanten van Double Diamond. Ik herinnerde met net dat ik Double Diamond nog gezien heb in mijn eerste kennismaking met het nieuwe pand van Dynamo. Sinds die keer ben ik er momenteel al wel wat vaker geweest. Ik kan het hier bijna bij elke plaat wel blijven zeggen, maar ook was ik met de muziek van Fireforce niet bekend. Naar aanleiding van het splinternieuwe album Annihilate The Evil heb ik inmiddels ook wat van hun eerdere werk beluisterd.
Fireforce past wel in het straatje (de combat en power metal straat) waar bijvoorbeeld Sabaton ook woont. Alleen hebben ze geen keyboards in hun meubilair staan. Met The Boys From Down Under (Tja, België ligt nou eenmaal onder Nederland) opent de plaat voortvarend, een lekker uptempo nummer. Origineel is het allemaal niet, maar toch weet de band er wel hun eigen stempel op te zetten.
Met nummers als Fake Hero, Dog Soldiers, The Iron Brigade en Iron, Steel, Concrete, Granite heb je eigenlijk al een kwartet aan meezingers, met fans die hun armen in de lucht steken en al headbangend mee brullen. Diegenen die hun hard verdiende geld uitgeven aan het kopen van de CD, krijgen er zelfs een bonus nummer bij: Gimme Shelter (oorspronkelijk van de Rolling Stones), en daarnaast ook nog de video van The Boys From Down Under.
Duidelijk is wel te horen dat deze plaat iets meer melodieus en afwisselend, en dus ook veel meer in balans klinkt dan zijn voorgangers. Gun deze plaat wat luisterbeurten, die verdient het zeker!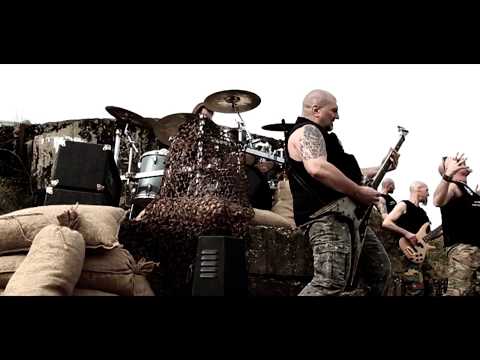 Filip "Flype" Lemmens - Vocals
Erwin Suetens - Guitars
Thierry "T-Warrior" Van Der Zanden - Guitars
Geert Van Dyck - Bass
Patrick Sacré - Drums