Flesh Gore Pieces of Cannibalistic Ritual Altars

01-02-2019

Deathmetal
Tracklist
01. Bulldozer Massacre
02. Chainsaw Excoriation
03. Purulence Blood Squirt Inside Decaying Cunt
04. Human Initally Fucker
05. Condemned To Death Through Anal Torture
06. Compulsory Self-Devourment
07. Flesh Gore Pieces On Cannibalistic Ritual Altars
08. Feasting On The Unborn Womb Essence
Uit Kiev, Oekraïne, komt het olijke drietal dat vaart onder de naam Necropsy Defecation. Opgericht in 2015, en doet zijn ding door brute death metal de wereld in te blazen. En wát ze doen, doen ze GOED! Christus in een badjas, wat is dit lomp! Heerlijk! Voorheen was deze band mij nog onbekend, maar ik moet zeggen, ik ben blij verrast. Vóór dat dit album uitkwam, hebben deze heren nog 1 demo uitgebracht in 2017.
Tijdens het tikken van deze review, draait dit albumpje voor de eerste keer zijn spreekwoordelijke rondjes (MP3), maar sinds de eerste paar tonen van het eerste nummer, kroop er een niet te onderdrukken rot-grijns op m'n smoel, die er zo lang als dat ik dit album luister, waarschijnlijk niet uit zichzelf vanaf zal gaan.
De drums ratelen als een op hol geslagen M60 door je speakers en klinken "vettig" (ik weet niet hoe ik dat anders moet uitleggen, maar wat ik hiermee probeer te zeggen, is dat ze echt vies klinken). De scheurende, laag-gestemde gitaar maakt het plaatje nog nét ff iets venijniger en de putgorgel en screams van onze grote vriend Arthur, afgewisseld met uiteraard de nodige "bree bree"-klanken, maken van Flesh Gore Pieces Of Cannibalistic Ritual Altars een feestje voor de oortjes.
Met acht tracks die allemaal twee-minuut-en-een-beetje duren, komt het geheel op een 21:14 minuten aan "kutherrie", wat garant staat voor een behoorlijke neiging om je kop los te gooien, of rondjes te rennen en met je handje te wapperen; liefhebbers van slam snappen helemaal wat ik bedoel!!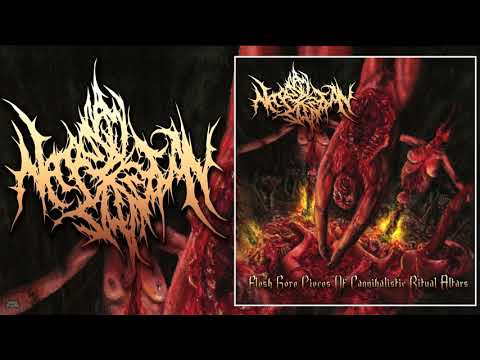 Arthur Denyshchyk - vocals
Bogdan Girchuk - guitars, bass
Alexey Rudkovsky - drums