Reality Is A Lie

27-05-2016
Tracklist
01. Reality Is A Lie
02. Madmen
03. Dying By The States
04. Dead City
05. Cannibal's Revenge
06. Breaking The Chains
07. Checkmate (war is hell)
08. Too Smart To Live
09. Worm In The Core
10. Lost
11. Fight For Your Life
12. Like A Wolf
Schoolvriendjes Ricky Wagner en Thorben Schulz hebben in 2003, toen nog maar 12 en 13 jaar oud, de band opgericht. Geïnspireerd door bands als Metallica, Megadeth en Slayer wilden ze hun eigen droom waarmaken door muziek te gaan maken die niet misstaan zou hebben in de jaren '80. De eerste shows die ze speelden waren dan ook gevuld met covers van Black Sabbath, Metallica, Megadeth en The Sex Pistols.
Deze nieuwe plaat is al weer de bands derde studioalbum. Na in 2010 Have Gun, Will Travel en in 2012 Civic Nightmares (hier ook besproken) te hebben uitgebracht komen ze nu na vier jaar met de opvolger: Reality Is A Lie. Ik ben zoals wel vaker niet bekend met hun vorige werk, dus laat me verrassen door deze plaat. Tenminste dat hoop ik.
Na een aantal luisterbeurten moet ik zeggen dat het me niet tegenvalt wat de band ten gehore brengt. Niet dat het allemaal origineel klinkt, dat zeker niet, de al eerder genoemde invloeden zijn duidelijk te horen. Het is dat Ricky Wagner niet zo'n kraaierige stem heeft als Dave Mustaine anders zouden enkele nummers niet hebben misstaan op enkele klassiekers van Megadeth of zelfs Metallica. Maar ook bands als Exodus, Death Angel, Sodom en Kreator klinken door in de muziek van Rezet.
Gezien de gemiddelde leeftijd van de bandleden is dit ook niet geheel vreemd, veel jongere bands zijn uiteindelijk beïnvloed door deze bands. Dat de band soms ook klinkt als Sodom of Kreator is misschien ook niet helemaal vreemd met een man als Harris Johns achter de knoppen. Liefhebbers van genoemde bands kunnen gerust de moeite nemen om de plaat een luisterbeurt te gunnen.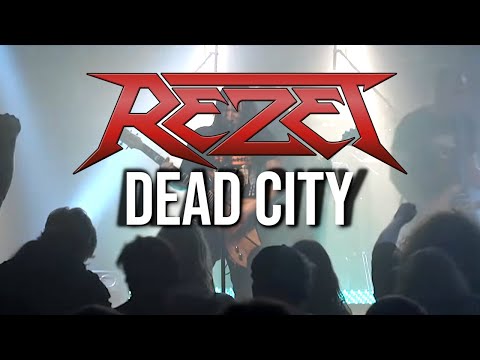 Ricky Wagner - Vocals, Guitar
Thorben Schulz - Guitar, Vocals
Lucas Grümmert - Bass, Vocals
Bastian Santen - Drums