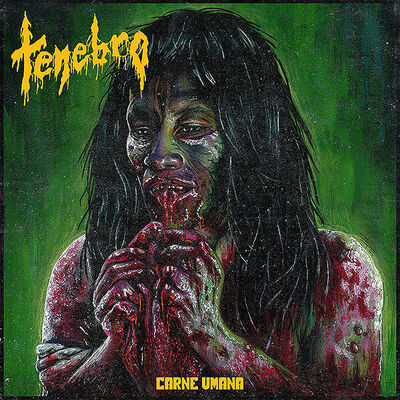 Carne Umana

23-11-2022

Deathmetal
Tracklist
01. Carne Umana
02. Trap Them and Kill Them [Impetigo cover]
Een goed half jaar na debuutalbum L'inizio di un Incubo komt het Italiaanse duo van Tenebro met een lekker tussendoortje op de proppen. Die hoofdmaaltijd smaakte me prima, dus ik ben uiteraard benieuwd naar dit nieuwe werkstukje. Zeker omdat het Carne Umana heet, inderdaad: menselijk vlees.
Voorzien van smaakvolle, sfeerverhogende sampletjes is Carne Umana - het nummer - een oprecht en welverdiend eerbetoon aan Italiaanse Cannibal Exploitation Films. Inderdaad, Italiaanse duistere metal en hun horror, zo vaak een onweerstaanbare combinatie.
De sound is hier lekker underground, lo-fi, of hoe je het ook wil noemen. Een laag grommend gitaargeluid en een log rammelende basgitaar, doorsneden door opgefokte trommelslagen, afgemaakt met raspend-grauwende vocalen. Een combinatie die werkt wanneer je daar van houdt. Dit klinkt enerzijds verrukkelijk lomp, anderzijds een tikje mysterieus, en zeker onheilspellend.
Trap Them And Kill Them is een cover van de Amerikaanse old school death / grind-band Impetigo, die dit nummer vereeuwigde op hun indertijd tweede album Horror Of The Zombies (1992). Dat thema doet het bij Tenebro uiteraard ook goed, en het duo zet dit nummer dan ook geheel naar hun eigen ranzige hand.
Al met al een (veel te) kort eetlust bedervend tussendoortje, zo fout, maar daardoor niet te versmaden! Luister zelf: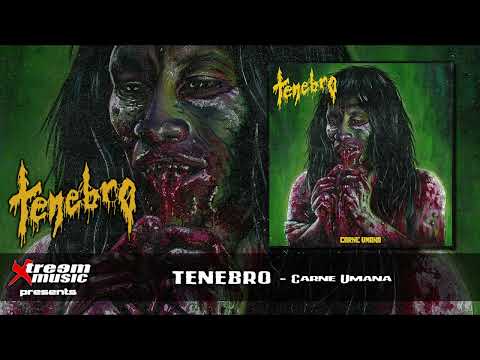 Il Becchino - Guitars, Vocals
Il Beccamorto - Bass, Guitars, Drum programming