Cemetery of the Insane

28-03-2015
Tracklist
01. Explosive Cadavers
02. Cemetery of the Insane
03. The Rituals of Flesh
04. Delusions of Power
05. The Great Deceiver
Cemetery Of The Insane is het eerste wapenfeit van het Belgische Carnation. Een band die in 2013 het land van de stervelingen betrad. Het is een EP met een vijftal nummers dat nog maar eens de hoogtijdagen van de death metal laat herleven. Nog maar eens. Maar toch is het materiaal om van te smullen. Want de vijf doodscantaten die op de mensheid losgelaten worden behelzen alles wat het genre zo onweerstaanbaar maakt.
De term waarmee afwisselende brokken herrie als Explosive Cadavers en Delusions Of Power samen te vatten valt, is old school. Een uitgeholde term wellicht maar het zegt alles over het gevoel dat de venijnige polka's die incidenteel afgelost worden door drassige doompassages over de luisteraar afroept. Het voert je onmiddellijk terug naar die tijd dat de ene na de andere spannende release zorgde voor een ware ravage in je kasboek.
De heren van Carnation beheersen de kunst van het pennen tot in de kleinste haarvaatjes. Vrijwel elk nummer bevat een aantal sterke, verslavende hooks die zich onmiddellijk op onwrikbare wijze vastzetten in het niets vermoedende kadaver. Dan doet het er niet meer toe dat Carnation opereert in een genre waar zo velen een plekje voor zichzelf afbakenden. Cemetery Of The insane kan interessant zijn voor diegenen die hard gaan op dingen als Asphyx of Bolt Thrower. Het is een EP die beslist smaakt naar meer.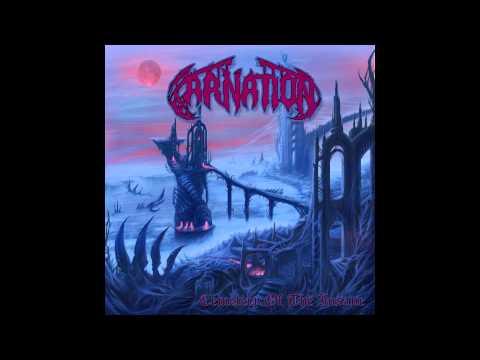 Simon Duson - Vocals
Jonathan Verstrepen - Guitars
Bert Vervoort - Guitars
Yarne Heylen - Bass
Morbid - Drums