Godless Shrine Of Decay

20-11-2015
Tracklist
01. Radioactive Doom
02. Genocide Ritual
03. Human Waste
04. Excruciating Existence
05. Salvation Through Zyklon B
06. Nuclear Burial
07. Self Proclaimed Messiah
08. 731
09. Death Metal Terror
10. Covered In Decadence
11. Rex Verminorum
12. Dark Clouds Above Hell´s Fire
13. Slaves Of An Ending Fate
14. His Final March
15. Enfeeblement nd Iconoclasm
16. Covered In Decadence (Demo)
Aangezien dit uit het Braziliaanse Salvador komende kwartet al vanaf 2007 bestaat, hebben ze na acht jaar nu hun tweede cd uitgebracht. De uit 2009 daterende demo Covered in Decadence heeft de band meer dan goed gedaan in de metal scene. Hun eerste cd Excrucianting Existence werd door Imperial Doom and Misantropic uitgebracht waarop gelijk een Europese tour volgde. En dat heeft ze blijkbaar geen windeieren gelegd. Collega Chris was dan ook best te spreken over dat debuut.
Godless Shrine Of Decay is echter geen nieuwe CD, maar een compilatie van nummers die al eerder verschenen op demo's, EP's en splits. Afgelopen november werd ie uitgebracht, geremasterd door niemand minder dan JB van der Wal (Aborted, Herder); en dat deze knaap dat kan was me al opgevallen aan de remaster van onze vrienden van Inquisitor!
Radioactive Doom en Genocide Ritual zijn de eerste twee songs van Godless Shrine Of Decay, tezamen tevens de meest recente single die van de band verscheen. Van radio-actief naar gemuteerde doom. Tjonge jonge, wat komt dit huzarenstukje lekker binnen zeg. Puur qua muziek horen we niets anders dan het hierboven genoemde debuut al te bieden had, ik val alleen maar in herhaling ten opzichte van wat al over het eerste album geschreven is.
Mocht je deze schijf in je schoen onder de kerstboom tegen komen, dan denk ik dat je een puik stukje old skool death metal in je kast kan zetten!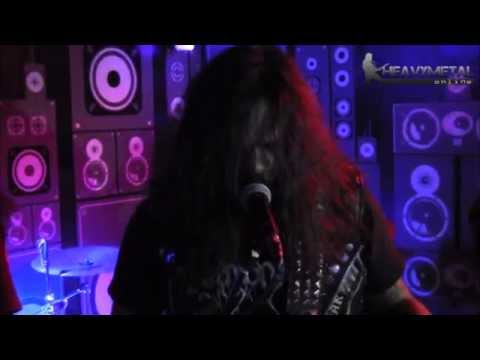 Victor Elian - Guitars, Vocals
Maurício Souza - Guitars
Vitor Giovanni - Bass
Nestor Carrera - Drums