Future Of The Past II - Hell In The East

11-12-2015
Tracklist
01. Ostatni Diakon (Exorcist)
02. Noc Demona (Ghost)
03. Necronomicon (Imperator)
04. Totalni Destrukce (Krabathor)
05. Sen Schizofrenika (Markiz De Sade)
06. The Beginning of Darkness (Merciless Death)
07. Ostatni Sakrament (Scarecrow)
08. No Return (Slashing Death)
09. Czas Apokalipsy (Slaughter)
10. Necromaniac (Thanatos)
11. Czarny Anio- (Thrasher Death)
12. Wyrocznia (Kat)
In 1996 bracht het Poolse Vader al eens een album uit dat een eerbetoon was aan oude helden waaraan de band zelf redelijk schatplichtig (b)leek. In december krijgt dit Future Of The Past een vervolg, met opnieuw een dozijn covers. Echter wel met een hele andere insteek.
Deze keer is gekozen voor niet de meest voor de hand liggende bands en nummers, eerder een vrij obscuur Oost-Europees feestje - vandaar ook de subtitel Hell In The East neem ik aan. Nu geen Slayer, Possessed, Kreator, Sodom of Terrorizer, maar obscure Poolse (thrash/death) metal bands als Ghost, Imperator, Exorcist en zelfs Scarecrow en Thanatos. Of neem het Tsjechische Krabathor, van origine toch ook geen publiekstrekker van de bovenste categorie. Geen feest der herkenning dus, maar een opwaardering van grondleggers uit de eigen regio. Misschien des te meer een prijzenswaardig initiatief.
Gelukkig voor de luisteraar is het geluid van de hedendaagse Vader-kwaliteit, hetgeen het luisterplezier - zeker ten opzichte van de oorspronkelijke, vaak demo-versies - absoluut ten goede komt. Vergelijken met de originelen is dan ook zinloos, hetgeen de aanpak van Vader alleen nog maar meer te prijzen maakt. De band zorgt er op deze manier voor dat hardwerkende bands van weleer nu alsnog wat erkenning en/of naamsbekendheid krijgen voor pionierswerk dat niet ophield bij namen die later zo veel bekender geworden zijn. Muziek uit het hart en met eervolle bedoelingen: hulde daarvoor!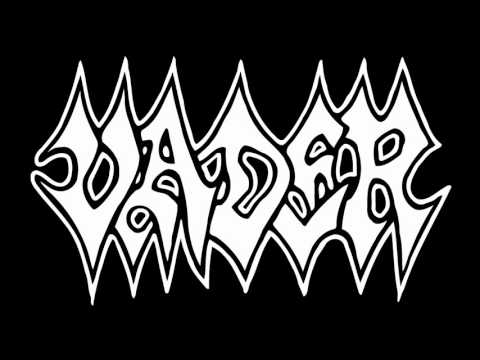 Piotr Paweł Wiwczarek 'Peter' - Bass, Guitars, Vocals
Marek Pająk 'Spider' - Guitars
Tomasz Halicki - Bass
James Stewart - Drums