House Of Mirrors

11-12-2020

Deathmetal
Tracklist
1. Further Down The Nest
2. House Of Mirrors
Met de twee veelgeprezen albums, Soil Organic Matter (2018) en Haven of Lies (2020), ongeveer 50 optredens in Denemarken en Duitsland, en vermeldingen in vooraanstaande tijdschriften zoals Metal Hammer en GAFFA, heeft Wayward Dawn naam gemaakt in de Deense metal scene met hun oer-verrotte death metal.
Al in hetzelfde jaar als de release van hun nieuwste album, is de band terug met de digitale en cassette-release House of Mirrors. Deze Ep / single is, net als de laatste twee releases, opgenomen en geproduceerd door Jacob Bredahl in Dead Rat Studio en gemastered door Brad Boatright in Audiosiege (Obituary, Nails, Full of Hell), en bestaat uit twee gloednieuwe nummers verdeeld over een totale speelduur van acht minuten.
Wayward Dawn brengt rauwe en brute old-school death metal met een focus op heaviness en effectiviteit, en maakt zich niet druk om technische details. De twee nummers leveren een frontale aanval op die de luisteraar treft als een stoomwals van verpletterende riffs, barbaarse drums, verrot geschreeuw en hopeloos gegrom.
Further Down The Nest begint weliswaar met een felle blast, maar de band legt de nadruk toch liever op de moddervette midtempo groove in de geest van Amerikaanse zielsverwanten als Morbid Angel, Obituary en Incantation. Misschien (nog) niet qua niveau, wel qua intensiteit, smerigheid en atmosfeer.
House Of Mirrors is natuurlijk geen absolute must, maar wel een leuke aanwinst voor de old school death metalfan!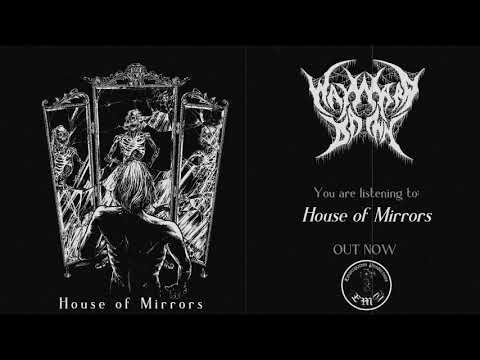 Jakob Kristensen - guitar
Rasmus Johansen - vocals, guitar
Kasper Szupienko Petersen - bass, vocals
Lukas Nysted - drums