No Grave But The Sea

26-05-2017

Folk / Pagan / Vikingmetal, Heavy / power metal
Tracklist
01. No Grave But The Sea
02. Mexico
03. To the End of the World
04. Alestorm
05. Bar und Imbiss
06. Fucked with an Anchor
07. Pegleg Potion
08. Man the Pumps
09. Rage of the Pentahook
10. Treasure Island
Rum, Beer, Quests and Mead
These are the things that a pirate needs
Raise the flag, and let's set sail
Under the sign of the Storm of Ale
Toen ik de nieuwe promo van Alestorm onder ogen kreeg bedacht ik voor mezelf een leuke uitdaging: wat als ik naar aanleiding van voorgaande albums; en de songtitels, het artwork en de eerste twee verschenen video's voor de tracks Mexico en Alestorm, alvast een review zou schrijven over No Grave But The Sea? Zou die adequaat zijn, zou ik er ver naast zitten? Want als er 1 band het predikaat voorspelbaar verdient, dan lijkt Alestorm een voorname kandidaat.
Onder aanvoering van de immer goedgeluimde Schotse drinkebroeder captain Christopher Bowes worden de vrolijke piraten-en-drank-liedjes weer op vertrouwde wijze vertolkt. Met terugwerkende kracht blijken beide genoemde singles, samen met opener en titelnummer No Grave But The Sea, de best beluisterbare tracks. Daarna zakt het peil zonder pardon in, en horen we vooral heel veel meer van hetzelfde. Het hierboven gequoote refreintje van het zelfgetitelde nummer Alestorm zegt toch al wel heel veel. Luister het nummer er maar bij, en dan weten we wel weer hoe de vlag er bij hangt.
Heeft Alestorm op No Grave But The Sea dan helemaal geen verrassende wending in petto, of wordt het eens over een andere boeg gegooid? Hoe minimaal ook? Nee! De piraten houden vast aan de minutieus uitgestippelde koers en wijken daar geen duimbreed van af. Zelfs de epische afsluiter, in dit geval met de titel Treasure Island wordt gewoon weer van stal gehaald, en blijkt, zoals ook op de voorgaande albums, een spaarzaam hoogtepuntje. De fans krijgen wat ze willen: meer stoere zeemansverhalen, verpakt in simpele, voorspelbare deuntjes. Iedereen blij. Proost!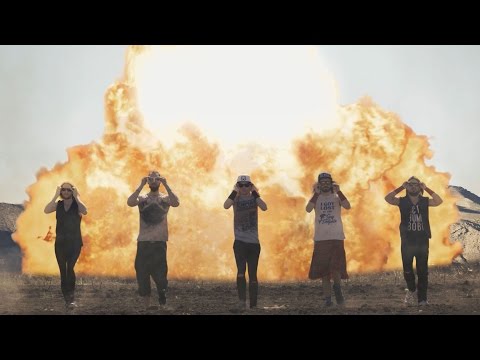 Christopher Bowes - Vocals, Keyboards
Gareth Murdock - Bass, Vocals
Elliot Vernon - Keyboards
Máté Bodor - Guitars
Peter Alcorn - Drums