Beyond The Veil

26-08-2016

Folk / Pagan / Vikingmetal, Heavy / power metal
Tracklist
01. On The Edge Of Twilight
02. Where The Arrow Falls
03. Autumn's Crown
04. Blackthorn
05. Lunantishee
06. The Wild Hunt
07. Earthbound
08. The Undying Flame
09. Mên-An-Tol
10. Beyond The Veil
11. Ellylldan
12. The Lore Of The Land
Beyond The Veil is voor Dark Forest alweer hun vierde album. Helaas, voor hun, is dit mijn eerste kennismaking met deze band en hun muziek. Of ik hier rouwig om moet zijn betwijfel ik, niet dat het muzikaal gezien slecht is, maar origineel is het allemaal niet. Als je de invloeden van bands als Iron Maiden, Scyclad en het folkse geluid van Elvenking (de hoes lijkt erg op die van Wyrd) mengt hoor je Dark Forest. Dat ze ook niet vies zijn van het schrijven van langere nummers blijkt wel uit de speelduur van dit album, deze klokt op zo'n beetje 71 minuten.
Liefhebbers van twin-gitaarwerk kunnen hun geluk niet op, dit album staat er vol van. Hoewel de zang van Josh Winnard op zich best wel bij de muziek past vind ik het niet erg dat hij soms ook zijn mond mag houden. Drie instrumentale nummers is dit album dan ook rijk: Lunantishee is een kort semi-akoestisch gitaarwerkje, Mên-An-Tol klokt ruim zes en een halve minuut en is een wat meer folk getint nummer; en Ellylldan lijkt deels gespeeld op een luit en klokt net geen minuut.
Dat het voorbeeld Iron Maiden niet vies is van (echt) lange, epische nummers, zo kan Dark Forest er ook wat van. Het afsluitende The Lore Of The Land (13:39 min) zou niet hebben misstaan op een Maiden album, mits je de zang van Bruce Dickinson erbij denkt.
Eventuele kopers van deze cd/plaat krijgen er bij de cd-versie een 16 pagina dik boekwerk bij met meer tekeningen van Duncan Storr (ook verantwoordelijk voor de hoes) en diegene die voor de vinyl versie gaat krijgt er een poster formaat A2 bij.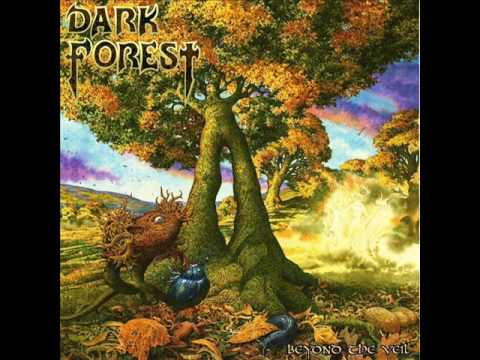 Christian Horton - Guitars
Adam Sidaway - Drums
Paul Thompson - Bass
Josh Winnard - Vocals
Patrick Jenkins - Guitars