You Got Me Fucked Up

18-10-2019

Hardcore / punk
Tracklist
01. Singalong
02. You Got Me Fucked Up
03. Crooked Smile
04. You Gotta Feel Me
05. On Some Shit
06. DTDFL4EVA
07. Fools Gold
08. Axe to Grind
09. Get a Grip
10. Bitterest End
Van de Australische band Deez Nuts besprak ik ook de voorgaande twee albums Word Is Bond (2015) en Binge & Purgatory (2017). Logisch dat in 2019 een nieuw album verschijnt, het zesde inmiddels. Net zo logisch is het dat ik me als eerste bedenk of deze You Got Me Fucked Up iets toevoegt aan of afwijkt van voorgaand werk.
Kort door de bocht luidt het antwoord nee. Met opener Singalong wordt op ondubbelzinnige wijze de toon gezet voor wat je verder kunt verwachten. Simpele punk die inderdaad is bedoeld om lekker mee te doen. Het wat lompere randje dat Word Is Bond overeind hield is weer overboord gekiept, Deez Nuts profileert zich hier en nu vooral weer als party-band. Ok, wel met een serieuze ondertoon natuurlijk, het is niet altijd feest in de huidige wereld.
In de basis is het uiteraard eenvoudige muziek, maar voor voldoende afwisseling wordt gezorgd door de inmenging van verschillende invloeden. Zo horen we regelmatig hiphop voorbij komen (zoals in titelnummer You Got Me Fucked Up), maar net zo goed wat zwaardere metal-elementen, die dan een lekker potje groove meebrengen (You Gotta Feel Me, DTDFL4EVA).
De nummers zijn vooral kort, maar al even spreekwoordelijk krachtig. Deez Nuts brengt geen slappe punkrock, maar overwegend stevig materiaal. En dan wel met melodie en prettig mee-brul-gehalte. Inderdaad, hardcore ten voeten uit. Niet origineel, maar wel erg aanstekelijk. Deez Nuts is zo'n band die knalt en spettert op het podium, de albums zijn niet bovenmatig spannend wat mij betreft. Daar is You Got Me Fucked Up geen uitzondering op.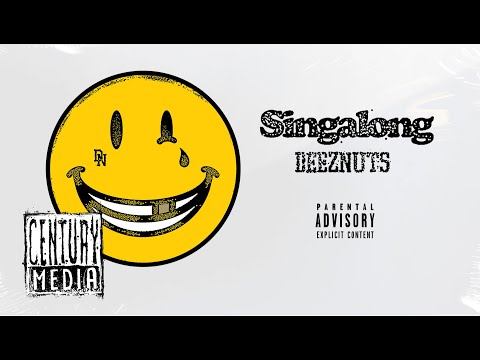 JJ Peters - Vocals
Matt 'Realbad' Rogers - Guitar
Sean Kennedy - Bass
Alex Salinger - Drums