... Of the Ghastly Stench

14-07-2017

Deathmetal, Doomdeath
Tracklist
01. Teofisto
02. Oh! Peaceful derketa
03. Black streams on the ground of cruelty
04. Ghostly stench of mortal remains
Excoriate is een van de vele bands uit Zuid-Amerika (in dit geval uit Chili) die nog zo rauw en authentiek musiceren dat het eigenlijk niet meer in deze tijd past. Natuurlijk heeft deze pure, eerlijke aanpak z'n charmes, de muziek kan ik ook prima hebben. Hun versie van old school death metal is vanwege de aanpak zo duister dat het gelijk raakvlakken heeft met doom(death), ondanks het soms toch best opgefokte tempo.
De band bestaat sinds 2002, en heeft sindsdien alleen maar demo's en splits uitgebracht. Het meest recente werkstukje heet ... Of the Ghastly Stench, en is door het Franse Nihilistic Holocaust op tape (jawel, zo old school) uitgebracht; en grappig genoeg ook digitaal. Het beste van twee werelden.
Het begrip underground lijkt daarmee in zekere zin achterhaald, omdat muziek simpelweg op eenvoudige wijze wereldwijd voor het voetlicht gebracht kan worden. Aan de andere kant: het blijft evident dat obscure metal als die van Excoriate zich zeker in productioneel opzicht niet kan meten met die van meer gekende acts. Dus de underground-gedachte blijft in die zin gehandhaafd.
Gelukkig doet de karige productie niks af aan de muzikale bedoelingen en de vaardigheden van de deelnemende muzikanten. Want daar is in mijn beleving niks mis mee. Vooral het aanwezige, logge basgeluid drukt de band de doomy hoek van de death metal in, al zijn er in de karige blastpassages net zo goed raakvlakken met black metal. Dit is gewoon goudeerlijke old school extreme metal, gemaakt door muzikanten met het hart op de juiste plaats. Alsof we nog steeds rond pak 'm beet 1990 zitten. Niet zeuren, gewoon ff luisteren!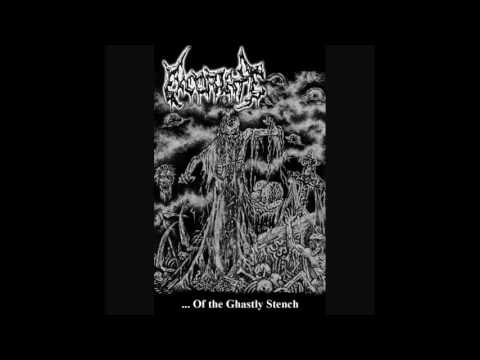 Lino Contreras - Drums
Francisco Rojas - Guitars
Fernando Olivares "Sekker" - Vocals
Omar Navarro "Urushdaur Warlord" - Bass
Raul Arancibia - Guitars