Firewind

15-05-2020

Heavy / power metal
Tracklist
01. Welcome To The Empire
02. Devour
03. Rising Fire
04. Break Away
05. Orbitual Sunrise
06. Longing To Know You
07. Perfect Stranger
08. Overdrive
09. All My Life
10. Space Cowboy
11. Kill The Pain
De van oorsprong Griekse heavy / power metalband Firewind draait onder de bezielende leiding van ster-gitarist (en bezig baasje) Gus G. (zondagse naam: Konstantinos Karamitroudis) al zo'n twintig jaar mee in het internationale circuit. Deze band is ook hier al regelmatig voorbij gekomen. Anno 2020 is de snel van samenstelling wisselende band toe aan studio-album nummer negen, simpelweg Firewind getiteld.
Ook op Firewind is de vertrouwde kwaliteit zoals we die van deze band kennen weer gewaarborgd. Elf nieuwe tracks, levendige heavy metal, flitsend en scheurend gitaarwerk en toegankelijke, lekker in het gehoor liggende deuntjes. Met de line-up-wisselingen valt het deze keer wel mee, al valt het op dat de onvolprezen Henning Basse zijn plaats aan de microfoon al weer heeft afgestaan aan een landgenoot: Herbie Langhans; hem kennen we van onder anderen als live-zanger bij Avantasia. Zijn net wat rauwere stemgeluid vind ik hier uitstekend passen, het is in elk geval geen achteruitgang wat mij betreft.
Ook verdwenen is toetsenist Bob Katsionis - al weet ik niet zeker of hij ook uit de live-band weg is, op dit album doet hij in elk geval niet mee. Gus heeft deze keer zelf de toetsenpartijen ingespeeld. Bijkomend voordeel is dat de uitgebreide capriolen en solo's van de keyboards mede tot het verleden behoren, dit instrument heeft nu een meer dienende rol. Ik vind dat geen gemis, omdat de nadruk nu nog meer ligt op de composities en het heerlijke gitaarwerk. Juist dat is waar Gus natuurlijk in uitblinkt.
De virtuositeit van de deelnemende muzikanten wordt weer optimaal ten toon gespreid. Van ballad (Longing to Know You) via pakkende, authentieke heavy rock (Rising Fire, Perfect Stranger, Space Cowboy) en gedegen metal (Break Away, Orbitual Sunrise, All My Life, Overdrive) tot aan spetterende vlotte metal-tracks (opener Welcome To The Empire, Devour, afsluiter Kill The Pain) bewijst Firewind dat de band van alle klassieke rock- en metal-markten thuis is.
Eigenlijk verwacht je niet dat dit een band is die al zo lang bezig is, maar eerder een gretige, energieke, jonge band. Nieuw label, nieuwe bezetting, nieuw elan; laten we het daar maar op houden. Belangrijker vind ik: afwisseling en kwaliteit gegarandeerd!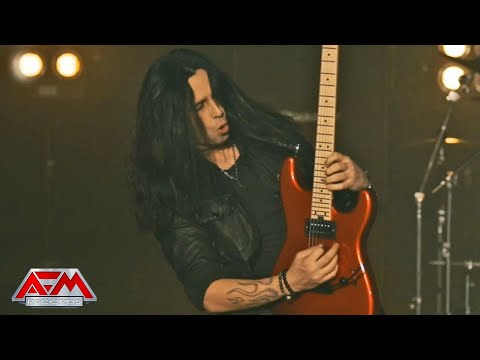 Herbie Langhans - Vocals
Gus G. - Guitars, Keyboards
Petros Christo - Bass
Jo Nunez - Drums