...From the Bloodline of Cain

12-11-2013
Tracklist
01. Promethean War
02. Slave Annihilation
03. The Conqueror's Flame
04. Ascension Through Lucifer's Might
05. Through the Devil's Flesh
06. Iron Command
07. The Great Adversary
08. ...From the Bloodline of Cain
Nocturnal Graves is afkomstig uit Australië en is actief sinds 2004. De band bestaat onder anderen uit twee ex-leden van de band Deströyer 666, maar heeft sowieso genoeg ervaring in de bagage. Na(ast) een hele zwik demo's werd in 2007 gedebuteerd met full length Satan's Cross. Hoeven we over de thematiek in elk geval niet meer in het duister te tasten.
De titel van het nieuwe, tweede album ...From The Bloodline Of Cain is dan wat minder uitgesproken, maar muzikale insteek en thematiek zijn onveranderd gebleven: de blackened thrash metal barst nog steeds uit z'n voegen van de geloofsovertuiglijke onvriendelijkheden en andere duistere zaken die de mens zoal bezighoudt.
Dit gezelschap zit behoorlijk in dezelfde richting als het eerder genoemde Deströyer 666: rauwe, enigszins primitieve (zoals zoveel muziek van Down Under) thrash metal met black invloeden. Over het geheel ligt de snelheid hoog, dit is lekker beukwerk; de acht tracks gieren voorbij. Met een speelduur van 32 minuten is ...From The Bloodline Of Cain dan ook een korte plaat.
Invloeden zijn er op gitaargebied zeker te vinden bij het duo King / Hanneman van Slayer. Daarnaast zijn er ook raakvlakken met de oude Duitse thrash (Sodom, Kreator, Destruction), de vocalen gaan dan weer meer richting black metal. Als ik vergelijkingen zoek met een Nederlandse band kom ik in deze context al gauw uit bij Occult/Legion Of The Damned, al is die band de laatste jaren wel meer gevarieerd gaan klinken.
Voor spannende zijsprongen of onverwachte wendingen moet je dus niet bij de Australiërs zijn. Dit is gewoon rechttoe rechtaan vermaak, zonder pretenties.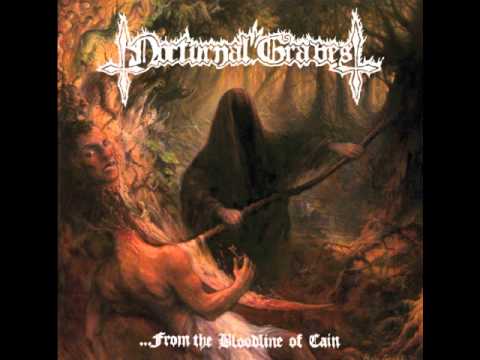 Jarro "Nuclear Exterminator" Raphael - Vocals, Bass
Decaylust - Guitars
Luke Wilson - Drums
Ian "Shrapnel" Gray - Guitars