Below the Grief

15-07-2018

Deathmetal
Tracklist
01. Blood Falls
02. Deliverence from the Astral Sea
03. Echoes of Light
04. From Death to its Son
05. Heavy is the Crown
06. Hunger Undying
07. Sky Burial
Vier jaar na Procession Through Infestation meldt het Mexicaanse duo Mr. Jacko en Mr. Hitchcock zich weer terug aan het front met een nieuw album: Below The Grief. Zeven tracks, zo'n drie kwartier aan slopend doodsmetaal om de oortjes te verwennen en de nek- en eventueel andere spieren aan het werk te zetten.
Want als er iets is dat de muziek van Zombiefication kenmerkt, dan is dat toch wel de uitnodiging om er op mee te bewegen. Vol gestopt met vette grooves krijgt de kenmerkende old school death metal gezelschap van iets dat nog het meest lijkt op black 'n' roll. Albumopener Blood Falls begint zelfs met serieuze zwartgeblakerde blasts alvorens naar de groovende death metal modus te schakelen.
Naast alles dat maar opzwepend is bevat het loodzware metaal van Zombiefication - zoals we van ze gewend zijn - spaarzaam, maar toch, ook atmosferische en slepende fragmentjes. Dat geeft de muziek bij vlagen een heerlijke doomy en gloomy sfeertje, zoals de langere tracks From Death to its Son en Heavy is the Crown (die laatste ook weer met nadrukkelijke black-invloeden) onmiskenbaar laten horen. Bovendien zorgen die stukken voor een aangename afwisseling ten opzichte van het voortdurende beukgeweld.
U begrijpt het al, ik ben liefhebber van Zombiefication. Pretentieloos vermaak, inderdaad. Maar o zo lekker.
The foulest stench is in the air... Enzovoort, dat werk zo'n beetje. Afijn: gewoon luisteren en gaan!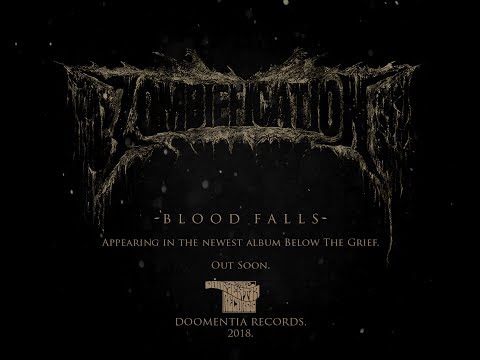 Jacobo Córdova "Mr. Jacko" - gitaren, bas
Arturo Vargas "Mr. Hitchcock" - zang
"Mr. Blast" - drums