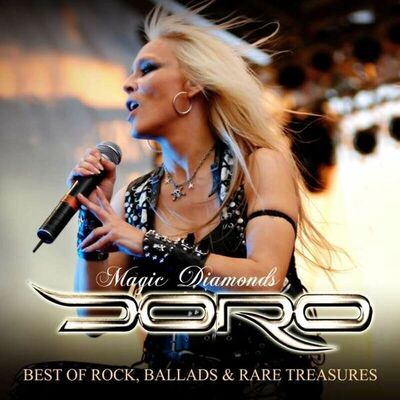 Magic Diamonds: Best of Rock, Ballads & Rare Treasures

13-11-2020

Hardrock, Heavy / power metal
Tracklist
CD 1: Best Of Rock
01. All We Are [alt. version]
02. Thunderspell
03. Burn It Up
04. I Adore You
05. Descent [Ft. Pete Steele]
06. You're My Family
07. Kiss Me Like A Cobra
08. Haunted Heart
09. Raise Your Fist In The Air [live]
10. Now Or Never [Ft. Slash]
11. The Night Of The Warlock
12. I Rule The Ruins [orchestral version]
13. Fight
14. Always Live To Win
15. Breaking The Law [Judas Priest cover] [Ft. Udo Dirkschneider]
16. Revenge [Live]
17. Ich Will Alles
18. Salvaje
19. Dedication (I Give My Blood)
20. Grab The Bull (Last Man Standing)
CD 2: Best Of Ballads
01. Für Immer [orchestral version]
02. Above The Ashes
03. Love Me In Black [new version]
04. Scarred
05. Rare Diamond [live]
06. Make Time For Love [live]
07. Tausend Mal Gelebt [Live]
08. Fall For Me Again [Live]
09. Give Me A Reason
10. Love Me Forever [Ft. Lemmy]
11. Angel In The Dark
12. Walking With The Angels [Ft. Tarja]
13. Beyond The Trees [new version]
14. Herzblut
15. Undying [unplugged]
16. Constant Danger [unplugged]
17. Prisoner Of Love [new version]
18. Warrior Soul
CD 3: Rare Treasures
01. The Queen
02. Metal Tango [orchestral version]
03. I Rule The Ruins [live]
04. Hellbound [live]
05. Even Angels Cry [live]
06. The Fortuneteller [live]
07. Save My Soul [live]
08. Egypt (The Chains Are On) [Dio cover]
09. She's Like Thunder
10. Bad Blood [live, ft. Blaze Bayley]
11. Whenever I Think Of You [live]
12. My Majesty [live]
13. Hellraiser [live]
14. Alles Ist Gut [live]
15. Let Love Rain On Me [live]
16. Chained
17. Black Rose
18. Nothing Else Matters [Metallica cover]
Zangeres Dorothee Pesch kennen we natuurlijk al vanaf de prille Warlock-jaren, vanaf 1983. Die band bracht in de jaren '80 vier albums uit, waarvan de eerste twee Burning The Witches (1984) en Hellbound (1985) ook hier in de platenkast staan. Na het uiteenvallen van Warlock in 1989 ging Doro verder onder haar eigen naam. In de loop der jaren verschenen braaf nieuwe albums, die gaandeweg een stuk minder interessant werden in muzikaal opzicht. De oorspronkelijke rauwe heavy metal van Warlock had al lang plaats gemaakt voor een meer gepolijste sound; de 'hits' van de latere jaren waren eigenlijk voornamelijk nog ballads.
Van een artiest die al zo lang bezig is, is het logisch dat er gaandeweg de loopbaan een hele rits aan verzamelaars voorbij is gekomen. Daar is deze maand een wel zeer uitgebreide bij gekomen: Magic Diamonds: Best of Rock, Ballads & Rare Treasures, die in een boxset van drie hoofdstukken (drie CD's) verkrijgbaar is. 56 Titels (al dan niet toevallig ook Doro's leeftijd) geven een goed beeld van een langjarige carrière waar je alleen maar respect voor kunt hebben. In mijn beleving is deze Magic Diamonds geen best-of (ondanks de subtitel) maar eerder een overzicht.
Best Of Rock belicht de heavy metal-kant van de zangeres, dat begint met een van haar grootste hit All We Are in een alternatieve versie. Dat is denk ik nog wel het meest interessante aspect van een compilatie als deze: er is een poging gedaan om van diverse bekende tracks een net wat andere uitvoering te vinden, zodat het niet slechts een goedkope verzameling bij elkaar geraapte nummers is. Ook aardig zijn de samenwerkingen met andere krakers uit de metal-wereld, zoals bijvoorbeeld Descent (met Peter Steele), Now or Never (met Slash), Walking With The Angels (met Tarja) en Love me Forever (met Lemmy). Ook Best Of Ballads begint met een grote hit: Fur Immer, hier is gekozen voor een orkestrale live-uitvoering, een aanpak die natuurlijk prima bij de ballad past. Overigens is 18 ballads achter elkaar wel serieus te veel van het 'goede'.
Sowieso wordt rijkelijk gestrooid met (alternatieve) live-nummers op deze verzamelaar. Het daadwerkelijk op het podium staan wordt in deze tijden natuurlijk node gemist, dat lijkt ook de keuze voor een flinke aantal live-tracks te hebben bepaald. Ook dan wordt niet voor de gemakkelijkste weg gekozen: een aantal nummers horen we met orkest, maar ook komen wat akoestische uitvoeringen voorbij. Sommige live-nummers zijn hier voor het eerst te horen, en zijn afkomstig van de meest recente tour van Doro en haar band.
Daarnaast komen er een paar covers voorbij die door mevrouw Pesch op geheel eigen wijze worden ingevuld. De Judas Priest cover Breaking The Law (met Udo) is nog wat plichtmatig, maar op Egypt (The Chains Are On, uiteraard van Dio) en Metallica's Nothing Else Matters komt Doro's stem prima uit de verf. Al met al biedt Magic Diamonds een degelijk overzicht van wat Doro door de jaren heen allemaal heeft uitgespookt. Zelf had ik graag nog wat oud Warlock materiaal voorbij horen komen, maar ja, je kunt niet alles hebben.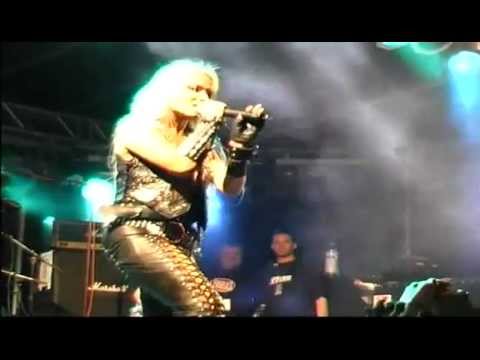 Doro Pesch - Vocals
Nick Mitchell - Bass, Keyboards
Johnny Dee - Drums, Percussion
Luca Princiotta - Guitars, Keyboards
Bas Maas - Guitars