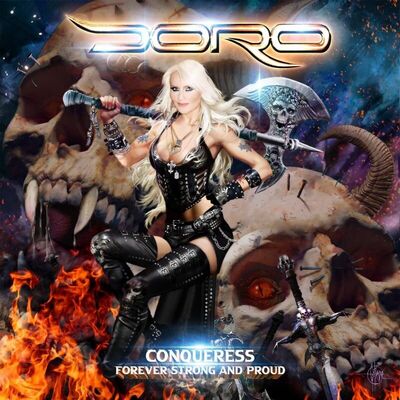 Conqueress - Forever Strong And Proud

27-10-2023

Hardrock, Heavy / power metal
Tracklist
01. Children of the Dawn
02. Fire in the Sky
03. Living After Midnight [ft. Rob Halford]
04. All For You
05. Lean Mean Rock Machine
06. I will Prevail
07. Bond Unending
08. Time for Justice
09. Fels in der Brandung
10. Love Breaks Chains
11. Drive Me Wild
12. Rise
13. Best In Me
14. Heavenly Creatures
15. Total Eclipse of the Heart [Bonnie Tyler cover] [ft. Rob Halford]
Het Duitse metal-instituut Doro bedoelt het allemaal goed, en ik zou het haar best gunnen als ik al haar harde werken zie. Ze heeft een zeer goed bijgehouden instagram-pagina bijvoorbeeld. Dat het nieuwe album Conqueress - Forever Strong And Proud dan deze uitgebluste meuk oplevert, is dan best verrassend.
Nu was ik sowieso al niet zo kapot van haar studiowerk van de afgelopen twintig jaar. Maar deze nieuweling slaat alles. Dit platgeslagen hardrockwerk klinkt gemakkelijk, goedkoop en inspiratieloos. En het irriteert me aan alle kanten.
Eigenlijk heeft alleen Fire In The Sky wat vuurwerk aan boord, ware het niet dat de vocalen van Pesch op een hele vreemde manier in de mix staat, waardoor het opvalt dat ze een beetje klinkt als een burlend hert dat nog hees is van de rook die het inademde tijdens die ene bosbrand van de zomer.
Ongelooflijk als je terugkijkt naar haar werk met Warlock en haar eerste solo-albums. Misschien moet ze toch eens de samenwerking zoeken met een Roy Z-oïde.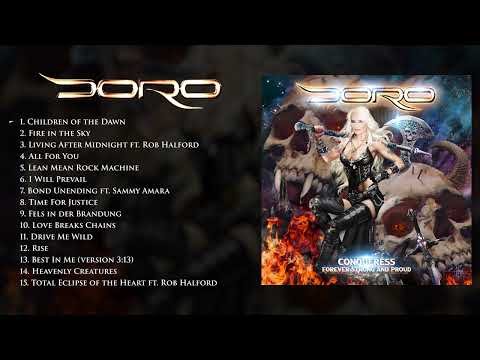 Doro Pesch - Vocals
Johnny Dee - Drums, Vocals
Bas Maas - Guitars, Vocals