Gepost in Reviews door
Edwynn
op 26-09-2022
The Devils

29-07-2022

Black metal, Deathmetal
Tracklist
01. The Devils
02. Totentanz - Dance Macabre
03. Glorifizierung des Teufels
04. Damnation - Hoellensturz
05. Virtus Asinaria - Prayer
06. Kingdom Of Cold Flesh
07. Ritus Incendium Diabolus
08. Creature Of Fire
09. Blackest Sabbath 1997 [bonus]
Belphegor piekte wat mij betreft al op hun debuutalbum The Last Supper (1995). Daarna is het me toch teveel een namaak Marduk geworden. Ook The Devils tapt weer veel te veel uit dat vaatje.
Totentanz - Dance Macabre bijvoorbeeld is wel heel schaamteloos jatwerk. Op zich een lekker razende track maar waarom al die moeite om het op de Zweedse voorbeelden te laten lijken? Dan vind ik het sinistere Glorifizierung Des Teufels nog het leukste aan deze plaat.
Wat ook niet meehelpt is het vreselijke geluid. Het My First Sony drumcomputertje is weer van stal gehaald, want het moest weer goedkoop en makkelijk. Ik heb zelf een voorkeur voor een meer natuurlijke productie ten opzichte van een dichtgesmeerde computerproductie. En dan mag het van mij best allemaal minder perfect zijn
Als ik Belphegor op de planken zie, ben ik al die kritische noten alweer vergeten want dan is het gewoon genieten van een frisse bak herrie. Het voert dan ook veel te ver om dit slecht te noemen. Verder is het gewoon even lekker beuken met The Devils. En dat kan op zijn tijd natuurlijk prima. Maar iets meer inspiratie voor de studioplaten zou welkom zijn.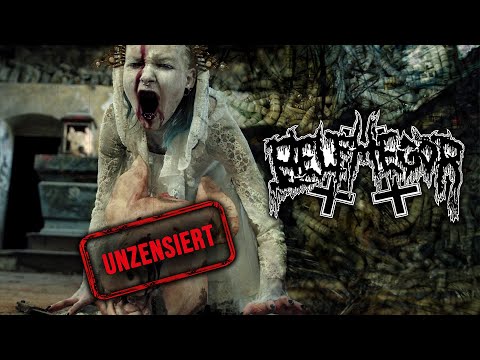 Helmuth - guitars, vocals
Serpenth - bass guitar
David Diepold - drums