The Man With Stars On His Knees

22-02-2019

Hardrock
Tracklist
01. Show Me What You're Made Of
02. All The Things You've Said And Done
03. Dancin' Down Below
04. The Devil That Needs You
05. Journey Out Of Here
06. The Man With Stars On His Knees
07. A God Is No Friend
08. Left Me For Dead
09. Mind Of A Mute
10. Morals
11. Fire In The Feild
12. Undertow
Aaron Buchanan is afkomstig uit de Britse band Heaven's Basement, welke hij in 2015 heeft verlaten. Meteen nadat hij deze band verliet is hij de studio in gedoken samen met zijn zuster Laurie Buchanan (gitaar en zang), Ryan Woods (bas) en James Curtis-Thomas (drums) om aan dit album te gaan werken. Voluit moeten we dan ook eigenlijk zeggen Aaron Buchanan And The Cult Classics, om te benadrukken dat we het hier over een heuse band hebben.
Wat hieruit voortkwam werd gelanceerd medio 2016 tot grote vreugde van de vele duizenden die alles volgden van alle bands waar Buchanan deel van uit maakte. Het werd snel duidelijk dat de nieuwe band al lang werd verwacht door zowel de media als het publiek, de recensies en posts op sociale media explodeerden over het internet. Dit werd gevolgd door een PledgeMusic-campagne die met 167% werd bekroond van het gevraagde totaal. Het debuutalbum The Man With Stars On His Knees werd in mei 2017 vrijgegeven door deze uitzonderlijke media-aandacht.
Wat uiteindelijk wil zeggen dat we hier niet met een nieuwe plaat te maken hebben, maar een heruitgave via een andere platenmaatschappij, Listenable Records. Wel staan er twee extra nummers op deze editie.
Om het muzikaal in een hokje te stoppen dan denk ik toch wat in de richting van AOR, lees Bon Jovi, Foreigner en aanverwanten. Aaron Buchanan beschikt over een zeer toegankelijke stem en dat sommige nummers over een hoog meezing-gehalte beschikken zal bij live optredens zeker in het voordeel van de band spelen. De meeste nummers zijn goed om aan te horen, al zijn drie wat rustige nummers (Journey Out Of There, titelnummer The Man With Stars On His Knees en A God Is No Friend) halverwege de plaat wellicht net iets te veel.
Al met al een aardige plaat die het goed kan doen als achtergrondmuziek op een rock georiënteerd publiek. In mijn jaarlijst zal hij niet verschijnen.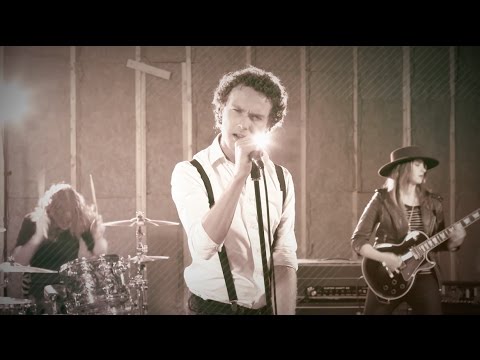 Aaron Buchanan - zang
Laurie Buchanan - gitaar, zang
Ryan Woods - bas
James Curtis-Thomas - drums