Slaves of the Shadow Realm

04-01-2019

Thrashmetal
Tracklist
01. The Widows Breed
02. Nocturnal Commando
03. Charnel Confession
04. Slaves Of The Southern Cross
05. Warhounds Of Hades
06. Black Banners In Flames
07. Shadow Realm Of The Demonic Mind
08. Palace Of Sin
09. Priest Hunt
10. Azazels Crown
11. Dark Coronation (Outro)
Na een periode van vijf jaar komt Legion Of The Damned begin 2019 met hun zevende album Slaves of the Shadow Realm op de proppen. Om maar meteen met het goede nieuws te beginnen: fans van de band zullen niet teleurgesteld worden. AL ben ik dan ook wel bang dat er weinig nieuwe fans bij zullen komen.
Muzikaal is er niet veel veranderd sinds hun vorige plaat Ravenous Plague (2014). Al lijkt zanger Maurice Swinkels zich wel weer iets beter op zijn plaats te voelen. Verwacht nog steeds geen uitgebreide gitaarsolo's. Zoals ze zelf ook zeggen: "less is more".
Dat de band populair is bij onze oosterburen zal ook niet geheel vreemd zijn, aangezien ze muzikaal gezien in het straatje passen van zoveel bekende Duitse thrash bands. Vaak denk ik dan ook dat ik naar Kreator zit te luisteren. De plaat begint venijnig met The Widows Breed en pas na Charnel Confession gaat het tempo wat liggen.
Met Slaves Of The Southern Cross laat Legion Of The Damned zich van een wat andere kant horen (ik hoor er ook een ander nummer van een andere band in alleen ben ik er nog niet uit welke). Die andere kant hoor je ook bij het intro van Shadow Realm Of The Demonic Mind, zowaar een piano-riedel opent dit nummer.
Op de editie die ik heb beluisterd staan ook drie bonusnummers, waaronder Priest Hunt, dat zelfs orkestraal begint. Azazal's Crown past goed bij de rest van de nummers en met Dark Coronation sluit dit album zelfs met een outro af.
2018 was voor mij geen geweldig muzikaal jaar, ik moet nu wel toegeven dat met deze plaat 2019 goed begint!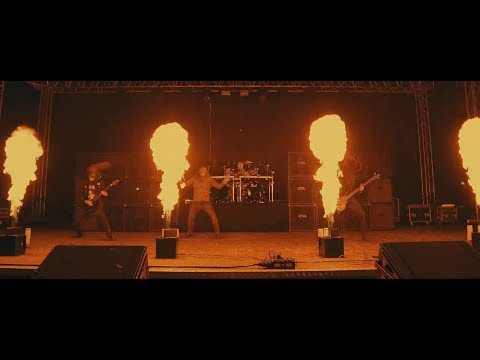 Erik Fleuren - Drums
Maurice Swinkels - Vocals
Harold Gielen - Bass
Twan van Geel - Guitars